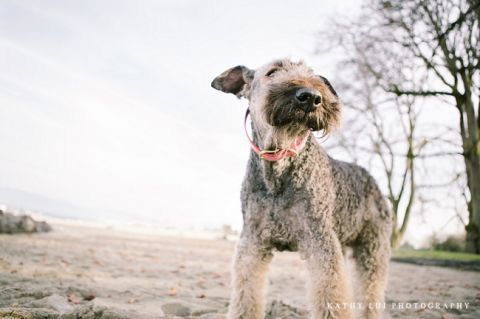 Sunshade actually celebrated her 14th birthday back in November of last year, but I never got around to posting it until now. Bad me! I've lost track of how many sessions I've done with Sunshade — the ones that are posted can be found at here. Her pretty-in-pink 13th birthday celebration from the year before is here.
I think you'll easily be able to tell that Sunshade's mom, Elaine, went all out for her sweet girl's birthday. Sunshade spent her special day eating lots of delicious human food and also posing some for my camera. I joke with Elaine that Sunshade may already be conditioned to think that seeing me = camera + posing + picture taking time, but for some reason, I don't think that's too far from the truth. ;) That's okay though, treats make it all better!
I've been told that fourteen is quite an old age for today's Airedale Terriers, so you can understand why this special girl was so spoiled on her birthday. She had every reason to be! As I've written in-depth in the past about Sunshade and Elaine's relationship, I won't go into details today. Instead, here are a few of my favorite images from that November day!