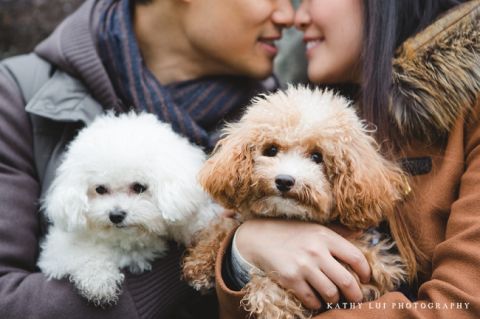 Su and Ernest met for the first time in Edmonton, Alberta. That much is a fact that both can easily agree upon. What they can't seem to decide on is whether they met in 2002 or 2009. They each have their own perspective as to what actually counts as their first meeting. I think it might have to be one of those things where they'll need to agree to disagree ;) It doesn't even matter today whether it was 2002 or 2009 because these two are happily engaged and planning a 2015 wedding.
They told me that it's easy to admit how quickly they came to love each other's humor and companionship. After dating for several years, all the while traveling and exploring the world together, Ernest proposed to Su in one of their favorite cities: New York! They have since continued to travel and move cities. In short, they are the most mobile couple I've had the pleasure of meeting (and I thought I moved a lot, ha). They dream of one day retiring together in some far-off land, knee deep in ocean water, fishing and enjoying each other's company. It sounds like they have a lot more moving around to do!
For their photo session, they brought along their two super cute Mini Poodles. Being around cute furry pups and documenting love? I love my job! It was an honor to be able to photograph this happy little family and I wish them more good memories as they embark on their journey of married life together.